Tips to Help you Winterize Your Pool
Fall is approaching fast, and that means football games, cozying up by the fire, pumpkin spice lattes, and (sadly) closing up shop for your swimming pool if you are in a northern location. While you cherish all the fun summer memories you and your family made in your pool, start considering how–and when–you'll need to start winterizing your pool to prepare for colder climates.
Your pool is a big investment and a prominent part of your home and lifestyle so it's a no-brainer that proper pool care should be your year-round commitment.
Let's take a look at why winterizing your pool is so important and the steps you can take to ensure your pool is ready to endure the winter months ahead.
Why You Should Winterize Your Pool
Winterizing your pool is so important because if you're like most people, you just won't be spending as much time outdoors during the winter (at least not poolside) which means less time to check in and maintain your pool.
Winterizing your pool in the fall or early winter can help you protect your pool from unwanted mildew, algae, and bacterial growth. It's a way to protect your investment and make for an easier clean-up process when it's finally time to reopen in spring!
When preparing to winterize, you should consider the state of your entire backyard. Trimming back trees and bushes can help prevent any loose branches or debris from affecting your pool. Plus, cleaning up your yard and storing lawn furniture can help protect your pool in the event of bad weather or wind.
Taking simple steps now to protect your pool can save you: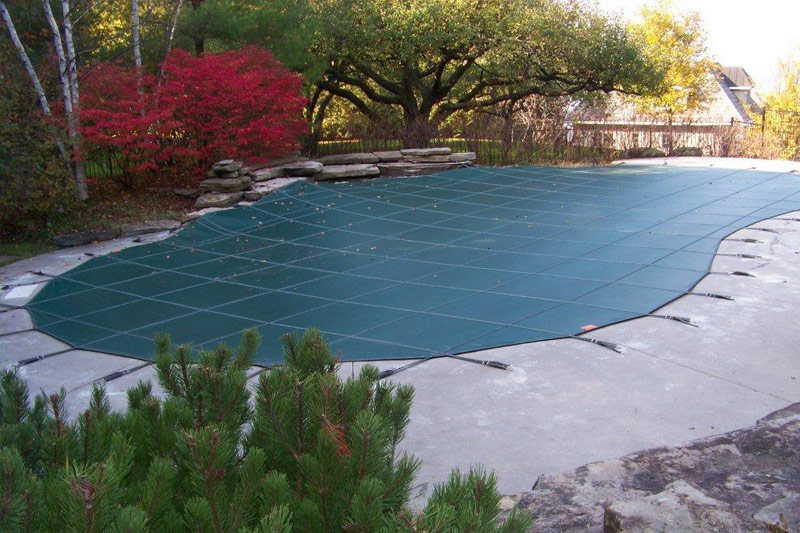 Time–when it comes to spring clean-up

Money–less chance of costly repairs

Stress–knowing your pool is safe and protected during a long cold winter
Steps to Winterize an Inground Pool
Inground pools are easily the most expensive pool type and therefore, it's incredibly important to understand the steps needed to protect that investment.
Before winterizing your pool, it's important to know and understand the care needed for your specific pool type and liner material. Taking the time to educate yourself on the correct care your pool needs will make for a simpler winterization process and smoother long-term pool maintenance.
Then, when you're ready to winterize your inground pool, keep the following in mind.
Removing Accessories
The first and easiest task to prepare your pool for winter is to remove any accessories or toys that may be in the water. That includes any ladders, slides, or other equipment that may affect the quality of the water or damage the liner.
Deep Cleaning
A great preventative measure when winterizing your pool is to perform a deep clean of the liner, skimmer, and filters. This should include carefully brushing the floor and walls of the pool, vacuuming the entire pool, as well as emptying and clearing out your skimmer of any leftover debris. Cleaning well now will make for a speedy clean-up when it's time to reopen!
Water Chemistry
Test your water's pH, alkaline, and hardness levels to ensure the water chemistry is safe for long-term closure. If the water is unhealthy, it can negatively impact your liner and can lead to a lengthy cleaning process when you're ready to jump in next spring. Then, ensure the correct chemicals, shock, and/or chlorine are properly distributed. For best results, check with your local swimming pool store for a winterizing kit.
Lowering Water Level
As your pool will be closed for many months, it's important to follow your cover manufacturer's guidelines to find out what they recommend for your water levels. Lowering water levels too much can put extra strain on your cover once it encounters a snow load. Additionally, it's important to never drain your pool for the winter months, as having no water in your pool can cause damage.
Clean the Filters and Pumps
If left all winter without being properly back washed and cleaned, your filter and pumps can harbor significant bacteria that can negatively impact your pool. Take the time to learn what kind of filter you have and buy the correct cleaners to get the job done! It's also a great idea to speak with your local pool professional to help ensure you have the right equipment to complete this step.
Dry Out The Lines
If you live in a cold climate, it's best to blow out your lines to prevent any leftover water from freezing and causing damage to the lines, pumps, or filters. This is a delicate process and should be handled with care. Never hesitate to contact your local pool professional to help ensure this is done correctly.
Storage
Clean, dry, and store your pool accessories in a shed or garage so they won't develop any mold or rust over the winter. Taking the time to store accessories properly can save you hundreds of dollars when reopening your pool.
Covers
Finally, ensure you have a quality safety cover that is U.L. certified and meets all the ASTM standards to keep kids and pets safe during the winter months. For example, LOOP-LOC's durable Safety Covers are the premium solution for winterizing your pool because they protect your investment while protecting your family.
Throughout the entire process, always remember that you can easily work with your local swimming pool professional to learn more about your pool and how to winterize it properly. They can assist with selecting chemicals, deep cleaning, and may even offer services to finish the winterization process for you!
Plan for the Winter With LOOP-LOC
While it may be sad to see the end of pool season, you can find comfort knowing that by winterizing your pool, you're taking manageable steps to preserve those memories for years to come. When you protect your pool with a LOOP-LOC Luxury Liner and state-of-the-art Safety Cover, you have even more peace of mind knowing not only are you protecting your backyard investment but your family and pets as well.
Contact us today to help you winterize your pool. We can help you select the cover and liner that are perfect for your needs.